Join us for a special half-day event in collaboration with senior digital learning leaders to address the biggest challenges we face today in higher education. Modeled after our popular OLC Collaborate events, participants will gather in small groups after each presentation to discuss, collaborate, and tackle the leadership issues at hand. This event takes place at our OLC Accelerate conference in Orlando on Tuesday, November 13, 2018, 12:30pm – 4:45pm.
Leadership Network Planning Committee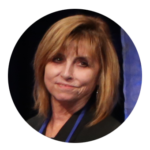 OLC Leadership Network:  A National Collaboration of Senior Leaders | REGISTRATION 
Registration fee for the Leadership Network Event is $205 early bird/$235 regular price (with purchase of OLC Accelerate conference registration); or $290 (pre-conference workshop only registration). Note: the Leadership Network Event is not eligible for the pre-conference workshop bundle pricing.
Please contact Dr. Devon Cancilla at devon.cancilla@onlinelearning-c.org with any questions.
| | | |
| --- | --- | --- |
| 12:00pm - 12:30pm | Registration and Check-in | Southern Hemisphere Foyer |
| 12:30pm - 12:45pm | Welcome and Opening Remarks | Southern Hemisphere III-IV |
| 12:45pm - 1:15pm | General Session 1 | Southern Hemisphere III-IV |
| 1:15pm - 1:45pm | Breakout Session 1 | Southern Hemisphere III-IV |
| 1:50pm - 2:20pm | General Session 2 | Southern Hemisphere III-IV |
| 2:20pm - 2:50pm | Breakout Session 2 | Southern Hemisphere III-IV |
| 2:50pm - 3:10pm | Break | Southern Hemisphere III-IV |
| 3:10pm - 3:40pm | General Session 3 | Southern Hemisphere III-IV |
| 3:40pm - 4:10pm | Breakout Sessoin 3 | Southern Hemisphere III-IV |
| 4:15pm - 4:40 | Panel Discussion | Southern Hemisphere III-IV |
| 4:40pm - 4:45pm | Closing Remarks | Southern Hemisphere III-IV |
| 5:00pm - 6:30pm | Reception | Southern Hemisphere II |