Access Recorded Sessions | Purchase Recorded Sessions | A Message from the Conference Co-Chairs | Photo Galleries | Contest Winners and Social Media | Sonic Foundry/Mediasite 
The 24th annual OLC Accelerate conference, held November 14-16, 2018 in Orlando, FL, generated a great deal of energy, enthusiasm, and new connections. More than 1,650 onsite and approximately 1000+ virtual attendees participated, representing all 50 states plus Washington DC and Puerto Rico, and 18 countries.
"OLC Accelerate 2018 helped me to understand my role as an online leader and encourager. I will be able to engage the faculty I work with at a higher level, because of some of the ideas I learned at the OLC conference."
Dr. Susan Wegmann, Associate Dean of Digital Learning and Innovation, University of Mary Hardin-Baylor
"The OLC Accelerate conference provides a multitude of opportunities to network. There are many social events, as well as sessions that are truly created to further us as online learning professionals. The organization of the conference is extremely easy to follow and I love that the keynotes truly tailored their presentations to online learning."
Blair Stamper, Creative Manager, Washtenaw Community College
"OLC Accelerate is an incredible chance to meet colleagues from around the states and discuss your headaches and heartbreaks. When everyone can come together, it provides a chance to move the needle forward and share thoughts and perspectives on how everyone can continue to improve higher education."
Cody House, Director of Online Learning and Instructional Technology, George Washington University – College of Professional Studies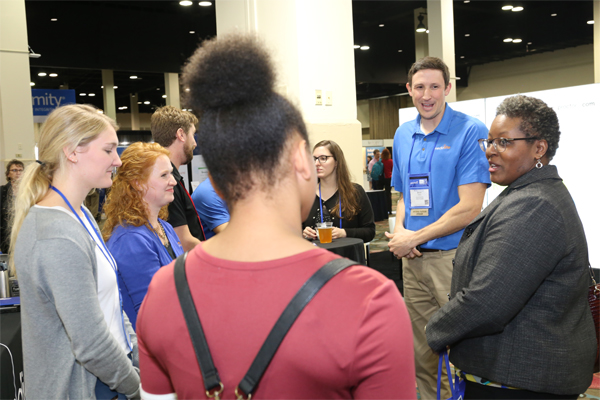 Access Recorded Sessions
The 100+ recordings are always free for registered attendees. If you were a registered attendee of the conference, the instructions and the activation link were emailed to you prior to the conference, and in the post-conference survey email. Please e-mail conference@onlinelearning-c.org if you have any questions.
SAVE THE DATE! Join us in Orlando for Nov. 20-22, 2019 for OLC Accelerate 2019.
Sign up for conference updates to receive the latest information on Online Learning Consortium events.
OLC Accelerate 2018 was held November 16 – 18th in magical Orlando at the Walt Disney World Dolphin Resort. There were close to 1,700 onsite attendees from 18 countries and more than 1,000 virtual participants learning and networking together.
Two exceptional keynote speakers punctuated our conference theme of "Back to the Future". Jane McGonigal took us on a trip into the future by exploring the allure of the gaming world and asked us to consider what online learning would feel like if "something good could happen at any moment"? Jean Twenge introduced us to the IGen (born after 1995) population and shared research, anecdotes, and possible implications that this generation will have on the future of learning. Doc Brown told Marty Mc Fly, "Where we are going, there are no roads" and in many ways, we too are venturing into the future by paving the road with our collective knowledge.
Through keynote sessions, discovery sessions, a technology test kitchen, panel discussions, workshops, and presentations, attendees shared new ideas, points of view, and avenues to pursue. Our Engagement team brought real enthusiasm to providing even more ways for participants to feel connected; the Field Guide program continued, walks 'n talks were added to keep the discussions (and our bodies) moving while we enjoyed the beautiful weather, the speed networking provided a great way to get to know fellow attendees in a very informal and comfortable setting, and of course, the "sanctuary" room, where attendees could go to simply process and unwind!
OLC Accelerate 2018 provided so many ways to reach back into our collective knowledge base and collectively accelerate forward where there are no roads!
Kudos to a wonderful team including the OLC Accelerate Steering Committee, Program Committee, OLC Board, and OLC Staff for providing insight, knowledge, optimism, enthusiasm and all-around support to make this a worthwhile, and fun event that will linger on far longer than our suntans!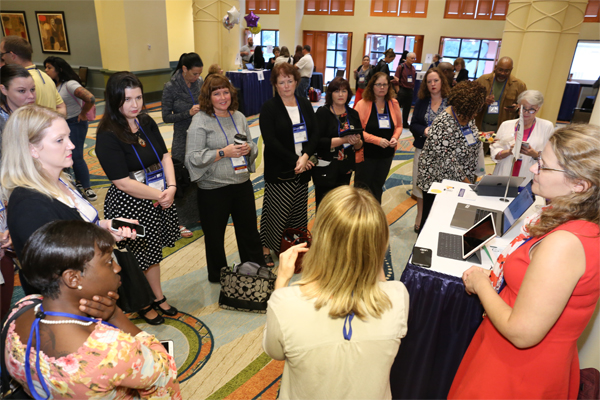 Photo Galleries (These pages take a little longer to load.  Thank you for your patience.)
All photos are property of the Online Learning Consortium.  If you would like a larger copy of any of the photos, or if you would like to use them for promotional purposes, please contact patricia.kungie@onlinelearning-c.org.
Thank you to our generous sponsors for the prizes below!
Booth Raffle Winners:
| | | |
| --- | --- | --- |
| Sponsor Company | Booth Drawing/Raffle Prize | Winner |
| OLC | Back to the Future gift bag filled with 80s toys and treats, $50 OLC gift card | Mark Pfuntner, Rochester Institute of Technology |
Wednesday Keynote $50 Amazon.com Gift Card Winner (OLC): 
OLC Stamp Card Contest iPad Winner: 
Jill Segerman, Xavier University
Stamp Card Contest Gift Card Winners: 
Jessica Fautch, York College of PA
Robin Grebing, Maryville University
Karen Kappe, University of PA
Larry Stoffel, Franklin College
Session Evaluation Gift Card Winners:
John Hansen, Mohave Community College
Susan Wegmann, University of Mary Hardin-Baylor
Blair Stamper, Washtenaw Community College
Karen Bellnier, Community College of Rhode Island
Terry Hutson, Southern Arkansas University Tech
Presenter Session Evaluations Gift Card Winners:
Jamie Holcomb, SNHU
Tess Diver, SNHU
Complimentary Conference Registration Winners:
| | | |
| --- | --- | --- |
| Name | University | Sponsor |
| Vicki Sahr | Fox Valley Technical | OLC-exhibit hall preview |
| Brian Holbert | St. Johns River State College | The Chronicle of Higher Ed |
| Jonathan Hawkins | Mississippi State University | ProctorU |
| Meredith Curley | Northern Arizona University | PSI |
| Carole Sox | Columbia College and Florida International University | Canvas |
| Yingzhuo Quan | Purdue University | Examity |
| Phyllis Hutson | Southern Arkansas University Tech | D2L |


Social Media Contest Winners:
| | | | | |
| --- | --- | --- | --- | --- |
| Category | Winner | Winning Tweet/Post | Prize | Sponsor |
| Best Aha Moment | Dr. Ryan Straight | https://bit.ly/2S2tHzL | one-year deluxe subscription to Screencast-O-Matic | Screencast-O-Matic |
| Best Fangirl Moment | Michelle Miller | https://bit.ly/2TrBhFB | $75 Amazon Gift Card | Biometric Signature ID |
| Best Networking Tip | Tracy Mullen Cosker | https://bit.ly/2ziElvj | headphones | Canvas |
| Best Plan for the Future | Matthea Marquart | https://bit.ly/2BgYsvg | one-year deluxe subscription to Screencast-O-Matic | Screencast-O-Matic |
| Most Appreciative From Afar | Suz | https://bit.ly/2ORBZIX | $25 OLC Gift Card | OLC |
| Most Enthusiastic Presenter | Amy Arnold | https://bit.ly/2PDEvYl | SmarterServices will contribute $50 to the charity of the winner's choice. | SmarterServices |
| Most Zen | Evan Straub | https://bit.ly/2ziWcT8 | Beats Solo3 headphones | Vitalsource |
| Best Excuse To Get Outdoors | Robin J Sitten | https://bit.ly/2KeuQBH | one-year deluxe subscription to Screencast-O-Matic | Screencast-O-Matic |
| Best Lessons Learned | Jenny Hopf | https://bit.ly/2DzUzTI | A free license to Yellowdig for one academic year. | YellowDig |
| Best Virtual Attendee Insight | Allan Guenther | https://bit.ly/2TrF1qX | Samsung Chromebook 11.6 Laptop 1.7GHz, 2GB Ram, 16GB SSD | Proctorio |
| Best Selfie | Jacob Spradlin | https://bit.ly/2DMpNbm | one-year deluxe subscription to Screencast-O-Matic | Screencast-O-Matic |
| Best Group Shot | Luke Dowden | https://bit.ly/2KeRJF1 | $25 OLC Gift Card | OLC |
| Most Coordinated Plan | Marina Machado | https://bit.ly/2Tsmsmy | Collegis Swag Bag + $25 Gift Card | Collegis Education |
| Most Winning | Jason Reed | https://bit.ly/2zkIEX5 | one-year deluxe subscription to Screencast-O-Matic | Screencast-O-Matic |
Take a look at photos, videos, inspiring quotes, and more that were shared before, during, and after the conference by following the #OLCAccelerate hashtag!
Post-Conference Survey Gift Card Winners:
Jason Johnston, Director of Teaching & Learning, University of Kentucky – College of Social Work
Emily Faulconer, Assistant Professor, ERAU
Mediasite Keeps Conversations from OLC Accelerate 2018 Conference Alive with Dynamic Video
OLC Accelerate 2018 is over, but thanks to the power of video the conversations that took place there are still going strong. Online Learning Consortium (OLC) selected Mediasite to be the national webcasting partner for the event in Orlando, Florida.
Mediasite Events streamed OLC Accelerate 2018 to new online audiences. In the OLC Live! Virtual Hub online attendees could converse with presenters and their peers and watch sessions in real-time.
Through the live webcasts of more than 100 conference sessions, OLC engaged around 1,000 online attendees who were unable to make it to Orlando. They posed questions to presenters and, along with the 1,650 people who attended the conference on-site, can now re-watch these sessions on-demand on any device.
OLC Accelerate brings together academic leaders, faculty and administrators to discuss education innovation, including emerging technologies, how to incorporate intelligent learning management systems and designing blended classrooms.
"Each year, OLC Accelerate brings together practitioners from around the world to share their discoveries, insights and knowledge at the frontiers of digital education. Video platforms, like Mediasite, provide an essential pathway for this knowledge to be captured and shared beyond the confines of the conference itself," said Devon Cancilla, Chief Knowledge Officer with the Online Learning Consortium.
Mediasite also demoed its latest enhancements that support active and micro learning at the show, including in-video quizzing, student assignment submission and capture solutions for collaborative environments.
Trusted by more than 1,700 colleges and universities, Mediasite Video Platform and Mediasite Video Cloud quickly and cost-effectively automates the capture, management, delivery and search of live and on-demand videos for campus events, lecture capture and flipped learning. Learn more at www.sonicfoundry.com/.