Access Recorded Sessions | Purchase Recorded Sessions | A Message from the Conference Co-Chairs | Photo Galleries | Contest Winners and Social Media | Sonic Foundry/Mediasite 
The third annual OLC Innovate conference, held April 18-20, 2018 in Nashville, Tennessee, generated a great deal of energy, enthusiasm, and new connections. More than 1,200 onsite and approximately 550 virtual attendees participated, representing 49 states and 18 countries.
"OLC Innovate was awesome! I loved meeting the amazing range of curious and connected educators excited to explore and try new things!"
Adam Parker Goldberg, Engagement, Flipgrid
This year's program included a diverse group of more than 450 speakers. Attendees chose from a myriad of learning opportunities, featuring 113 Emerging Ideas sessions, and a multitude of Education Sessions, Workshops, Conversations—Not Presentations, Master Classes, Featured Sessions, Career Forum Roundtables, and more! Attendees engaged in various collaborative experiences, included the Innovation Lab, Blogger Bar, and the Innovation Installation.
"I would recommend [OLC Innovate] to anyone involved in distance learning, online teaching, or course design, because of the opportunities to learn from others, and discover products and solutions offered by the vendors."
Celia Olson, MSN, RN, Instructor, Nursing RN to BSN Online program, University of Louisiana at Lafayette
Our three Campfire Gatherings provided opportunities to network each evening, and the SWAPS exchange brought members together in order to share their personal interests and enthusiasms.
"OLC Innovate provides the chance to network with educators who are not afraid to try out new ways to improve higher ed for students and who are generous with their ideas."
Tracey Osborne, AVP of Academic Resources, Southern NH University
We hope you will join us at next year's OLC Innovate 2019, taking place April 3-5 in Denver, CO, and at OLC Accelerate, taking place November 14-16, 2018 in Orlando, FL. Sign up for email updates of these events.
Access Recorded Sessions
The 80+ recordings are always free for registered attendees. If you were a registered attendee of the conference, the instructions and the activation link were emailed to you prior to the conference, and in the post-conference survey email. Please e-mail conference@onlinelearning-c.org if you have any questions.
Purchase Recorded Sessions
Missed the conference? No problem!
Now you and your entire university can access 80+ recorded sessions including the Keynotes, featured sessions, select information sessions, and key vendor showcase sessions to view at your convenience.
| | | |
| --- | --- | --- |
| PACKAGE | MEMBER PRICE | NON-MEMBER PRICE |
| Individual Access | $120 | $150 |
| Unlimited Group Access | $995 | $1395 |
Click the button to choose which package to buy.
Unlimited groups must provide us with a group manager who will serve as the designated support contact for recording access issues. Recording viewers are provided technical and customer service support through their group manager only. A member of the OLC Conference Team will contact you after purchase to set up your group manager. 
The designated Group Manager must purchase this package first. Upon completion of this package registration, the Group Manager will receive the allotted number of package participant coupon codes to assign and distribute to each participant in their group. Each participant will then register themselves as an "Individual" Virtual Attendee and enter their unique package participant coupon code.
Registration questions may be addressed to Laurie Lulow, laurie.lulow@onlinelearning-c.org.
To access streamed sessions, participants need to be logged in at onlinelearningconsortium.org.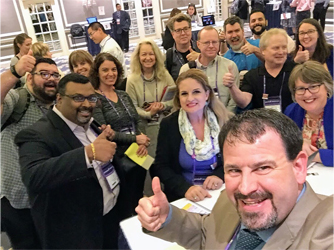 SAVE THE DATE! Join us in Denver April 3-5, 2019 for OLC Innovate 2019.
Sign up for conference updates to receive the latest information on Online Learning Consortium events.
Some fun from the OLC Innovate 2018 exhibit hall:
"It's one of the best networking opportunities in a reasonably-sized conference."

Angela Velez-Solic, Director, Center for Teaching Excellence and Innovation, Rush University (OLC Innovate 2018)