The Online Learning Consortium (OLC) is reaching out to our global community of thought leaders, faculty, innovators, and practitioners to bring you insights from the field of online, blended, and digital learning. This week, Dr. Jessica Knott, OLC Institute faculty for the Learner Experience Design (LX) workshops, joins us to answer our questions about LX Design, as well as variety of other topics.
OLC: How did you become engaged in LX design? How is your work in this area evolving?
At OLC Emerging Technologies in 2015 I met my friend Joyce Seitzinger, and we realized we were both doing work at the intersection of service design, learning design, and user experience design. We started collaborating on a few things and also digging into new ideas at our own institutions. We continue to share what we learn and how the work is evolving. I'm currently working in LX at Michigan State University, and she is at RMIT in Melbourne Australia. We've teamed up on a number of things, including a panel at SXSWEDU in 2016 (entitled LX Design: Because learning design requires UX), a podcast episode, and I was invited to speak at the LX conference she put on last year, along with a number of visionaries in the field! My current focus is on LX Design in professional development and organizational structures.
OLC: What are the 3 most important things prospective participants should know about the LX Design courses you teach?
I teach the LX Design workshops and there are three of them:
Introduction to LX Design Methods I: Personas
Introduction to LX Design Methods II: Experience Mapping
Introduction to LX Design Methods III: Prototyping
The three most important things to know about these workshops are:
We are humans.
Humans have diverse needs and ideas.
Empathy is really important, as is listening and learning that we don't have to have the answer all the time. There is no recipe for success – only experimentation, measurement, and iteration.
OLC: There are many opportunities to teach online. Why did you choose OLC and which Institute course(s) do you teach for OLC?
The OLC courses are well-designed and approachable. They offer opportunities for theorizing about, as well as applying the course content to practice. I enjoy the mix, and have had a great time meeting all of the new people who come through as learners and then do amazing things!
OLC: How do you define innovation?
Meeting people where they are, then pushing them just a bit further.
OLC: OLC's Institute offerings help professionals stay current in their prospective fields, and oftentimes assist in the advancement of their profession. What do you believe are the top 3 ways in which professionals in our field can stay current and move ahead?
Read. All the time. The Chronicle, Inside Higher Ed, Ed Surge, Online Learning Journal – fiction, non-fiction, history… read it all and look for threads that tie it to your work.
Tweet. Twitter can be overwhelming, but it can also be really useful. Start with following conference hashtags from conferences you wonder about. My personal favorite is #OLCInnovate – but there are a lot of great ones out there.
Be fearless. If you see someone writing or tweeting something you admire? Tell them you admire it. Ask if you can buy them some coffee or host a virtual coffee chat with them. I've found that most people are really, really nice, and interested in talking about their work and yours!
OLC: What was the last book, journal or article you read that relates to the field?
I am currently reading two great but different pieces: Surviving Sexism in Academia, Strategies for Feminist Leadership by Kirsti Cole and Holly Hassel, and Communicating Project Management, A Participatory Rhetoric for Development Teams by Benjamin Lauren. I highly recommend both.
OLC: Tell us about research or a work project in which you are currently engaged.
I'm currently involved in mapping and measuring design and development processes in MSU Information Technology and the MSU Hub for Learning and Technology. How can we develop agile, flexible project management, reporting, and reflection tools to span a wide variety of digital and analog projects of varying sizes? I've written some ideas about project management, and have a few publications forthcoming. Stay tuned!
OLC: How can people connect with you?
@JLKnott on Twitter
MSU Website
My personal webpage
About Dr. Jessica Knott: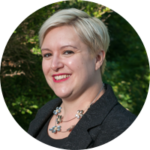 When she's not wrangling, (or being wrangled by) her two rescue dogs, Jessica is the Learning Design Manager for MSU IT and the MSU Hub for Innovation in Learning and Technology at Michigan State University. She guides a team that helps faculty, staff, and academic programs effectively integrate technology into their teaching and research through consultations, demonstrations, workshops, and hands-on development. She has worked in information technology since 1998, spanning the private and academic sectors. Jessica lives in Lansing with her pretty amazing partner Ryan and has spent more perfectly good hours playing Fallout 4 than she's comfortable admitting in polite company. Video games aside, she loves thinking, reading, volunteering, longboarding, uke-ing and travel.