On-Campus Enrollment Shrinks While Online Continues its Ascent
Campus Technology | May 2, 2017 -  More than 6 million students took at least one online course in 2015, representing more than a quarter (29.7 percent) of all higher education enrollments that year, according to a new report from Digital Learning Compass. Among that 29.7 percent, it's almost evenly split between students who took some but not all courses online (15.4 percent) and those who took every class online (14.3 percent). In contrast, total online enrollments in 2002 came in just under 10 percent.
Put another way, the number of students who have taken a "distance education" course rose by 3.9 percent in 2015, adding an additional 226,375 online students to the virtual attendance rolls. Between 2012 and 2015, the number of on-campus students has declined by 5 percent, losing a total of 931,317.
The number of undergraduates who took online courses in 2015 totaled nearly 5 million and the count of graduate students who did the same was just over 1 million. Across the entire 6 million, 3.1 million took some but not all distance classes; 2.9 million students were completely online. Among the "exclusively distance" students, 55 percent live in the same state as the school from which they're taking courses, while 42 percent live out of state. (The rest are "other" or "unknown.")
These statistics come from an annual survey traditionally run by Babson College's Survey Research Group and sponsored by several education organizations. This year, three entities teamed up to analyze the data and produce the report. Babson has partnered with WCET and e-Literate to launch Digital Learning Compass, a think tank of sorts that will produce a series of publications examining online education from multiple perspectives. The newest report, released today, looks at distance enrollments in the United States, using data from the National Center for Education Statistics' Integrated Postsecondary Education Data System (IPEDS).
Most of the online enrollment in public institutions occurred at four-year schools (55 percent) while the remainder (45 percent) took place in two-year colleges.
While there may be a "public perception" that online education is the bailiwick of for-profit colleges, the report suggested, the reality is that most online courses are delivered by public schools. Two-thirds (68 percent) of distance enrollments took place in public institutions; 18 percent were at private non-profit schools; and the remainder, 14.5 percent, were at for-profits. In fact, public institutions have shown the greatest online headcount growth during the latest period, adding 100,000 enrollments more than private non-profits.
According to the "Distance Education Enrollment Report 2017," for-profit schools saw large enrollment drops in the number of online students, driven by a "few of the largest institutions." The sector has seen a decline for the past three years, shrinking 31 percent between 2012 and 2015. For example, the University of Phoenix, which had an online enrollment of 162,003 in 2015, had an online enrollment of 256,346 in 2012 — a plunge in distance enrollment of 94,343. Ashford University lost almost 35,000 students between 2012 and 2015, eroding from 76,722 to 42,046.
On the opposite extreme, the greatest growth in online enrollment headcount took place among private non-profits. Southern New Hampshire University experienced hyper-growth, adding 45,085 online students between 2012 and 2015; Western Governors University increased by 29,135; and Brigham Young University-Idaho grew by 21,788.
As for public institutions, the report stated that the University of Maryland-University College had the largest number of students taking at least one distance course in 2015: 48,677 out of a total enrollment of 50,248. Coming in second was Ivy Tech Community College in Indiana, which had 81,668 students, of which 34,103 took at least one online class that year.
"The overall higher education environment is changing," said Jill Buban, Online Learning Consortium's senior director of research & innovation, in a prepared statement. "The total pool of post-secondary students has been shrinking for each of the last three years. At the same time, the demographics are shifting to a student community primarily comprised of adult and other contemporary learners, for whom distance learning often provides the best path to a post-secondary education. As schools compete for students in this environment, distance learning programs become essential to their ability to succeed."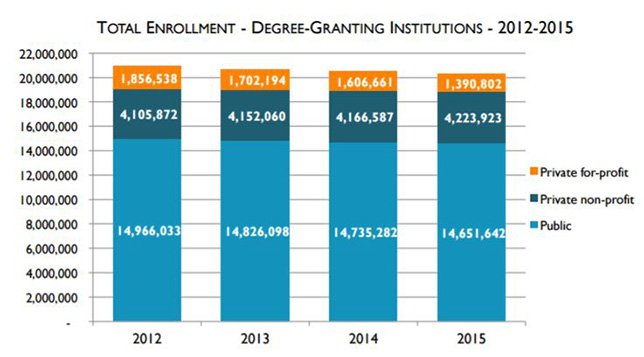 Source: Digital Learning Compass: Distance Education Enrollment Report 2017
OLC co-sponsored the report along with Pearson Education and Tyton Partners.
The report is available with registration on the Digital Learning Compass website here.
An infographic sharing the highlights of the report is here.
SOURCE: Campus Technology