First cohort completes NSU Online Learning Consortium Teaching Certificate program
Northern State University, Aberdeen, S.D. – The first cohort of educators has completed Northern State University's Online Learning Consortium Teaching Certificate program. 
Eight NSU employees received grants to complete the program:
Dr. Juan Gonzalez
, assistant professor of Spanish; Dr. Debra Wenzel, instructional design coordinator;
Ms. Gayla Martens,
Spanish instructor for the Center for Statewide E-learning;
Dr. Wendy van Gent
, assistant professor of music; Dr. Sara Schmidt, assistant professor of accounting; Dr. Allen Barclay, assistant professor of management and marketing; and
Dr. Boyd Perkins
, associate professor of music.
The
OLC Teaching Certificate program
, comprised of one foundation course and three electives, provided faculty the opportunity to design a new online course or redesign a current online course. They explored an array of topics, developed strategies to build their online courses, and gave and received peer reviews. Working in teams with mentors who provided one-on-one coaching, participants demonstrated their mastery of the basic elements of online courses: planning the course, understanding role adjustment, organizing the course, incorporating the advantages of online communications and applying the pedagogical principles that created purposeful learning communities.
Those completing the program said it better prepared them to use online tools and resources. One cohort member said changes to online courses also benefited face-to-face classes and increased student engagement.
These employees showcased their new skills and knowledge at the Faculty Technology Sessions, which were recorded for future viewing.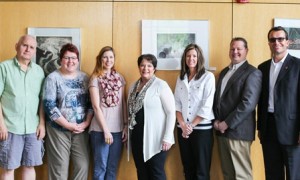 Photo - Pictured are, from left: Dr. Juan Gonzalez, Dr. Debra Wenzel, Ms. Gayla Martens, Dr. Wendy van Gent, Dr. Sara Schmidt, Dr. Allen Barclay, Dr. Boyd Perkins