Lowered Expectations, Dropped Assignments Dominated Switch to Online Courses
Campus Technology | May 5, 2020 -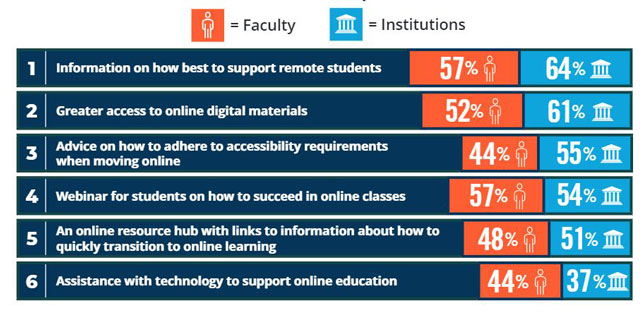 Faculty and administrators weigh in on what assistance would be most helpful for online instruction. Source: "Digital Learning Pulse Survey: Immediate Priorities," from Cengage
Nearly half of faculty (48 percent) in a recent survey said they lowered their expectations about the amount of work they could expect from their students after the switch to online learning in response to school closures caused by COVID-19. A third (32 percent) expected a lower quality of work. Forty-six percent said they eliminated some of their assignments and exams, and 17 percent reported dropping some readings that were part of their original planning.
Those were the adjustments reported by colleges and universities in a survey done in April by a group of higher education organizations, led by Cengage. The survey queried 826 administrators and faculty from 641 different colleges and universities in the United States. Nearly every institution (97 percent) had to switch to distance learning quickly, even when instructors had no prior experience in that mode of instruction. Just half of institutions could rely on some of their faculty having some experience with online teaching.
How did faculty make the switch? The survey found that 83 percent turned to distribution of materials through the learning management system used by the institution. Eighty percent picked up the use of synchronous video, such as Zoom, GoToMeeting and Google Meet. Sixty-five percent used asynchronous videos that were prerecorded. And 51 percent turned to videos available from external sources, such as YouTube.
Some respondents said they found online environments "incompatible" with their fields of study, wrote Nate Ralph, an editor for Bay View Analytics, which oversaw the survey process, in an article about the results. As one faculty member explained, "I teach a wildlife monitoring field class, and much of what we do involves field work with animals .... This is an excellent hands-on laboratory course and I am trying to figure out how I will replace that experiential component." Another instructor noted, "As an academic unit that delivers arts education, we are dead in the water if we cannot meet in person."
Others expressed concern about the "impersonal nature of virtual instruction." One faculty member pointed out that "education isn't about content delivery, but about processes and skills that can only partially happen at a distance." And another suggested, "So much of teaching is about relationships .... Online and real teaching are DIFFERENT and what works in the classroom often does not work online, and vice versa."
Respondents said that what would be most helpful for doing a better job with online instruction included getting information on how best to support remote students (the No. 1 choice for both faculty and administrators), followed by greater access to online digital content, advice on how to maintain accessibility features (considerably more important to institutions than to faculty), a webinar for students on how to succeed in online courses (suggested by more faculty than institutions) and an online resource hub with links to advice on how to make a quick transition to online learning. And while 44 percent of faculty said they'd like assistance with technology to support online education, just 37 percent of administrators acknowledged the need.
"It's worth noting that, even as faculty identified a variety of support options that would be helpful during this challenging time, their most pressing concern is for their students," said Jeff Seaman, Bay View's lead researcher and director, in a statement. "When asked what assistance would be most helpful, 57 percent identified additional support for their newly online students — rating it more important than support for themselves."
Then there's concern about what will happen during the fall. The uncertainty of what will come "is creating a sense of anxiety," said Nicole Johnson, research director of the Canadian Digital Learning Research Association, which supported the survey project. "Early decisions on how instruction will proceed for the remainder of 2020 are critical for giving faculty time to prepare for ongoing online instruction, particularly if social distancing orders remain in place."
Along with Cengage and the CDLRA, the survey was done in partnership with the Online Learning Consortium, WCET, the UPCEA and Every Learner Everywhere.
The full infographic of results is available through the Cengage website.
SOURCE: Campus Technology