LSU sets ambitious online education goal for flagship campus
BusinessReport.com | January 17, 2018 - About a dozen years ago, Southern New Hampshire University was a private liberal arts college with a few thousand students. Finances were tough, so university leaders took a risk by investing in online education.
Judged only by the campus, it's still a small school. Yet some 100,000 students took at least one online class from SNHU over the past three terms, says Sasha Thackaberry, who until recently was the university's assistant vice president for academic technology, course production and alternative learning models.
"It was a bet that really paid off," she says.
Thackaberry, hired this month as associate vice provost for online and distance education, is being asked to replicate that success at LSU's flagship campus, which had fewer than 800 online students enrolled in the fall of 2017—most of whom were pursuing master's degrees in social work or business. More than 30,000 students attend classes at LSU's Baton Rouge campus and Provost Richard Koubek wants to have just as many online students by 2025.
"You're not going to get there incrementally," Koubek says. "You have to change the paradigm."
LSU's ambitious goal isn't necessarily unrealistic, says Jennifer Mathes, director of strategic partnerships with the Online Learning Consortium, though without knowing LSU's strategy she can't comment on the odds for success.
But she did list some pitfalls other institutions have encountered when expanding their online presence, including not maintaining standards to ensure quality and consistency, not having resources in place (including personnel) that can be scaled for growth, and focusing more on recruitment than on the student experience.
"Online learning is not cheaper than face-to-face because there are costs associated with services and delivery of the courses," Mathes warns. "However, there is the potential for revenue growth by bringing in new students."
"Our vision is LSU, anywhere, anytime, and that physical boundaries would not define the boundaries of this campus," Koubek says. "We want to make sure the whole world knows that Louisiana has a strong flagship in Baton Rouge."Koubek is adamant that degree quality won't be compromised. He expects online education to make money for the university, but says the main goal is finding new ways to fulfill LSU's mission.
Adding online courses means adding faculty, which benefits the university as a whole by increasing the amount of scholarship and research happening on campus, Koubek says. But that costs money, so growth will happen in stages.
Additional master's degrees will be the first wave, he says, along with summer courses for undergraduates. Fully online undergraduate degrees will come later. Some online students might not pursue traditional degrees.
For example, LSU has discussed with DXC Technology a possible online information technology undergraduate degree to help the company meet its hiring needs. The university might also offer career progression badges and certificates for company employees, a spokeswoman says.
LSU already offers courses that blend on-campus and online interaction, and campus students can expect to find more online elements in their classes. Koubek doesn't like the term "distance learning," under which online education usually falls, because it implies an entirely separate category rather than another vehicle for the LSU experience.
Until recently, most online education consisted of posting the information and grading students on assessments and projects, Thackaberry says. But newer models promote more engagement.
"We're going to have to prepare learners not to learn just at one point in their lives, but to have a partnership with a university and be able to come back in many different ways," she says.
When interviewed for this story, Thackaberry was still a few weeks away from her first day of work at LSU, so she didn't have a game plan yet. Once on campus, she planned to begin meeting with people to identify opportunities and build partnerships.
Thackaberry says the strategy she crafts will be specific to LSU and will not attempt to follow the path of SNHU or other public universities, like Penn State, that already have massive online enrollments.
"This magical thing that we call 'online learning' has only really been around for two decades," she says. "We're still at the starting gate as a nation, when we think of the potential of online learning."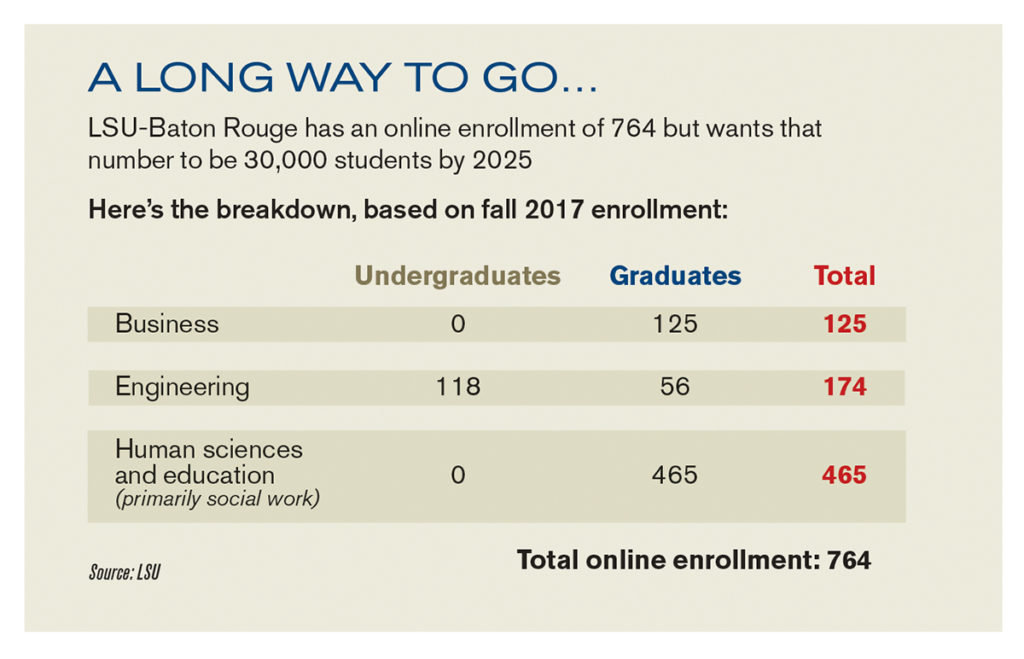 SOURCE: BusinessReport.com