New Resource Helps Students Ask the Right Questions About Online Learning
Campus Technology | June 28, 2018 - Five organizations with expertise in online education have collaborated on a new resource for students looking for online programs. Together, Berkeley College, the National Council for State Authorization Reciprocity Agreements(NC-SARA), the Online Learning Consortium, Quality Matters and the WICHE Cooperative for Educational Technologies (WCET) formulated a list of questions students should ask themselves in order to find an online program that best fits their needs.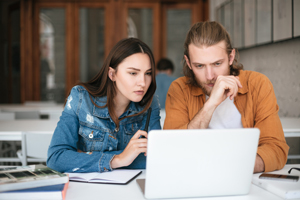 The questions are organized in six categories:
Academic and professional expectations,

 

including personal goals and limitations (such as time and money);
Learning experiences,

 

such as whether a course meets synchronously or asynchronously, how assessments are handled, and instructor qualifications;
Financial considerations,

 

such as tuition, fees and the cost of course materials;
Technology,

 

including hardware requirements and availability of technical support;
Support services,

 

such as orientation, advising, tutoring and library access; and
Outcomes,

 

including career placement and development.
"There is significant variation among online programs," said Deb Adair, executive director for Quality Matters, in a statement. "Students shouldn't assume one size fits all. They need to be prepared to make informed decisions between programs based on the kind of experience, technology, support and outcomes they offer."
The detailed list of questions as well as a summary infographic are available on the NC-SARA site.  
SOURCE: Campus Technology