Mark Up The Margin With AnnotatED: Social Reading With Collaborative Annotation - Session B


Brief Abstract
In collaboration with the Online Learning Consortium and AnnotatED, the community for annotation in education, Hypothesis is convening a free workshop on collaborative annotation at Innovate 2020, which is fully online this year. Register now to join one of two sessions on Friday 12 June 2020 — or come to both. The general program of both sessions will be the same, but the participants and activities in each will be a bit different. Come to either session to get one scoop of social learning goodness, or come to both for a double dip!
Both workshop sessions will start off with a quick orientation to collaborative annotation for social reading: what is it, and how are people using it to enrich online learning? This will be followed by Notes from the Field, where you'll hear from a variety of AnnotatED community members about how collaborative annotation is happening at their schools, and you'll have the chance to discuss your ideas and questions with these experienced practitioners.
The main focus of each session will be a hands-on activity to explore, discuss, and augment readings on topics shaped by Innovate 2020 keynoters Maha Bali and Martin Weller. We'll practice reading together to see firsthand how collaborative annotation can build understanding, connections, and community. Our conversations will be anchored in texts — literally — and spread out to engage other texts, ideas, and people beyond the workshop itself.
***To participate in this free workshop, please register for the workshop here***
Note: You do not need to be registered attendee of OLC Innovate 2020 Virtual Conference to participate in this workshop. Hypothesis will send registrants Zoom connection information prior to the workshop. Registered OLC Innovate attendees will, however, also be able to access the workshop through the workshop session link on our program page.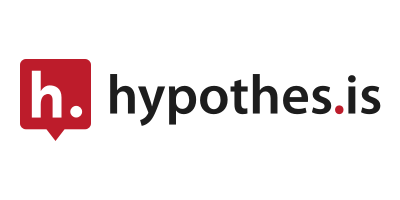 Presenters
Jeremy Dean, Director of Education, Hypothesis Jeremy was previously the Director of Education at Genius where he facilitated educational applications of their interactive archive of literary and historical texts. Jeremy is a scholar-educator with fifteen years of experience teaching at both the college and high school levels. He received a Ph.D. in English from the University of Texas at Austin where he worked as a Project Leader in the Digital Writing and Research Lab for four years developing units and lesson plans around a variety of digital tools. He also worked as a Program Coordinator at the University of Texas Humanities Institute, overseeing their education initiatives.
Nate is an evangelist who connects people, ideas, and technologies to make things better, currently working with Hypothesis (https://web.hypothes.is), the nonprofit organization that stewards open, standards-based annotation technologies and practices. He has worked across a wide variety of public and private institutions, focusing on community development, digital communications, meaningful education, open technologies, and sustainable growth. Nate lives in Portland, Oregon USA with some other cats and humans. Learn more about Nate on his blog (http://xolotl.org) or Twitter (https://twitter.com/xolotl).