Think for just a moment….today's K-12 students—who are currently participating in technology-enabled active learning environments—will soon become the audience for tomorrow's Health Science Educator.  Are we prepared for this eventuality?
Changes in health care today will drive increasing complexity in the health care systems of the future.  Are we providing our current and future graduates with the knowledge and skills, including higher-order thinking skills, they will require to adapt and thrive within these environments?
Tomorrow's Health Science Educators face the challenge of preparing graduates to integrate into complex, technologically-based health systems as members of inter-professional teams delivering patient-centered quality care.  Meeting this challenge requires adoption of innovative pedagogies complemented by educational technologies that promote active engagement in the learning process.  However, increasing demands on faculty time, expanding class sizes, expanding curriculum and a desire to increase accessibility while ensuring affordability also threaten innovation in health education.
With regard to educating future health professionals, the Institute of Medicine and the Josiah Macy Jr. Foundation argue that e-learning is essential to the type of educational innovation required to prepare graduates to participate in the continuously-learning healthcare systems of the future.  But how do we support Health Science Educators in integrating innovative pedagogies and educational technology to achieve the requisite innovation in our education system?
Join us in Omaha as the University of Nebraska Medical Center hosts the first OLC Collaborate dedicated to Health Science Education, where we will explore how to support tomorrow's Health Science Educator.  I look forward to meeting you there. Learn more about attending.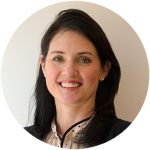 Paige McDonald, PhD.
Director of the Core Curriculum in Health Sciences,
Program Director for the HSCI Program with Health Sciences
George Washington University