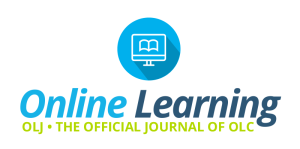 CALL FOR PROPOSALS FOR  GRADUATE STUDENT PRESENTATIONS
OLC ACCELERATE 2017
CFP Closed June 5, 2017
The Online Learning Journal (OLJ) in partnership with the Online Learning Consortium invites submissions for the graduate student sessions at OLC Accelerate 2017. The conference will convene November 15-17, 2017 at the Walt Disney World Swan & Dolphin in Orlando, FL. We will be selecting 6 proposals for full presentations and 12 for discovery session presentations, or poster sessions. Please indicate your interest in the presentation format you prefer.
We seek proposals that reflect and showcase our vibrant community of practice — promoting theory, research and methodology in online, blended, and web-enhanced teaching and learning. Note that each individual is limited to no more than one proposal submission.
Benefits of Attendance and Presentation at OLC
Share research ideas/results
Network with OLC experts & attendees
Sharpen Communication Skills
Receive Detailed Feedback from Experts in the Field
More about the Graduate Student Presentation Formats
Proposals can include works in progress, research ideas, collaboration opportunities, or pilot projects. Both session types provide an excellent opportunity to present your ideas to your peers in a community forum.
Those presenting as a graduate student through this CFP process will receive a discounted registration rate of $195, as well as a ticket to the awards luncheon.
Please note that each presenter must bring his/her own laptop. 
Submission Process
We seek submissions by students currently enrolled in or recently graduated (within one year) from a Graduate (Master or Doctoral) program whose research is relevant to online, blended, and web-enhanced teaching and learning.  To be considered for the review process, students must indicate an academic sponsor from their program (research/thesis advisor preferred), including full contact information for both the student and the sponsor/advisor.  (It is often the case that the student and advisor submit as co-authors.) In addition, the proposal submission must follow the criteria of the OLC Accelerate 2017 conference sessions.  Student authors are urged to coordinate with their advisor that the content for the proposal reflects the accuracy of the research study, as well as to ensure the proposal follows the submission guidelines.
Proposal Review Process
The following questions will guide evaluators in the refereed proposal review process.
Do the title and abstract clearly describe the presentation?
Is the proposed topic timely and/or appropriate?
Will this session positively contribute to the conference and to the field?
Are you sharing research data or assessment information during the session?
Timeline
Proposals due by 11:59pm ET June 5, 2017
Notification of acceptance by August 4, 2017
Deadline for presenters to accept is August 21, 2017
Deadline for presenters to register is September 20, 2017
Final date for presenters to edit abstracts is

September 20

, 2017

Final presentation upload date is November 1, 2017
For Assistance or Further Information Contact:
Dr. Jill Buban, Sr. Director of Research & Innovation, Jill.Buban@onlinelearning-c.org