OLC Accelerate 2022 brought together 1,500+ learning professionals in November at the virtual and onsite programs in Orlando, Florida. The theme, "Reflecting Onward: Evidence for a Changed World" surfaced projects, research, and exemplars of best practices in digital learning across 500+ sessions. The pandemic prompted many institutions to rethink their online and blended learning strategies and it showed.
The OLC Insights team had a chance to connect with OLC Accelerate 2022 Conference Co-Chairs Tawnya Means (University of Illinois Urbana-Champaign) and Torie Wynn (Academic Partnerships) to get a sense of their favorite aspects of the conference:
Enhancing blended learning is a priority for the community – and requires a behavioral shift.
The Blended Learning Symposium spotlighted experts in blended learning, who shared resources and ideas on dimensions of blended learning and readiness for successful implementation. Presenters discussed experiences with the implementation of blended learning around the globe and provided a look back at the past 25 years of research with an eye to the future, incentives for continuous improvement in practices, and bolstering inclusion.
New ways of teaching and learning require intentional leadership around organizational and professional development. Blended learning was a major topic in conference breakouts as well, with the Collect the CHANGE model illuminated to showcase the ways in which institutional leadership can impart responsible change management. 
Higher Education events must continue to find ways to amplify student voices.
Hearing directly from students at both the virtual and onsite conference was an inspiring and important reminder of the importance of embracing the student voice and opinion when it comes to online teaching and learning. 
The virtual panels, "In Their Words: Student Perspectives on Support, Learning and Faculty Relationships" and "Charting A Learner-Driven Future for Online Learning: A Student Panel on Centering Hum
anization and Care" provided attendees with interesting student perspectives and feedback. 
The plenary lightning talks during Thursday's breakfast at the on-site conference also featured Every Learner Everywhere student fellow Kiara Williams, who reminded the audience that we should never make assumptions about who students are and what they want. Instead, Kiara advocated for inviting students to the table and engaging them in decision making, curriculum design, and educational technology ventures.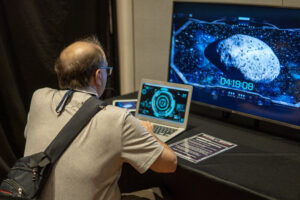 In-person gatherings of like-minded people were invigorating, and are enhanced by online programming and connections. 
The global pandemic massively impacted the conference industry, and as in-person events are making a comeback, organizations are still evaluating and testing out their strategies. Blended learning is part of the OLC's DNA, as we strive to make it possible for people to participate, regardless of their location. 
OLC Accelerate provided attendees with so many ways to stay active, connected, and engaged together outside of sessions. The inclusion of Goosechase encouraged attendees at both the virtual and onsite conference to try out new offerings and get involved. The brand-new Engagement Boulevard and Engagement Block Party brought attendees together to network and celebrate each other's creativity. It was so exciting to see people connecting in-person after many years apart.
View all photos from OLC Accelerate, courtesy of Sean Nufer