ABOUT THE LEADERSHIP NETWORK SYMPOSIUM 

Leadership has been foundational to OLC initiatives, workshops, and events since the founding of the Sloan Consortium in 1992. As interest in leadership strategy and community-building has grown over the intervening years, we have been inspired by the success of our previous Leadership Network events and requests from leaders across the globe to create a meaningful space to convene and connect with experts, decision makers, and thought leaders in the areas of online, blended, and digital learning. This outpouring of interest resulted in our launch of the OLC Leadership Network Symposium (LNS) at the 2022 Accelerate Conference in Orlando, Florida. The symposium featured a keynote, concurrent sessions, and a closing panel related to themes such as centering equity in digital learning, aligning institutional and digital strategy, and designing sustainable ecosystems for equitable, quality digital learning. These sessions were led by 33 speakers from a diverse range of institutional contexts, which resulted in rich conversations about the most pressing challenges and opportunities facing online, digital, and blended learning educators. 
The OLC will continue to host an annual Leadership Symposium at our Accelerate Conference. We hope that these ongoing conversations will continue to drive innovative thought, actionable strategies to achieve and sustain quality online, digital, and blended learning environments, and resilient programs that are able to adapt to changing educational landscapes. 
ABOUT THIS REPORT
This report serves as a living memory of the important conversations, challenges, and opportunities raised during the inaugural LNS. The sections that follow feature our syntheses of these themes and highlight notable insights and key takeaways to inform the ongoing work of all leaders in higher education. The multi-faceted picture that emerges is of a community that is driven by a continuous improvement mindset, always seeking to better serve students and center equity and quality in our practices. The report also reveals the enduring importance of events like the LNS that provide opportunities for discussion and resource sharing as we chart sustainable futures in online, digital, and blended learning.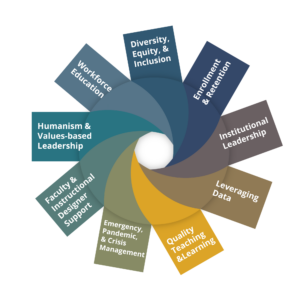 Nine Core Themes from the 2022 Leadership Network Symposium