Several months ago, a colleague sent me the book "The 15 Commitments of Conscious Leadership: A New Paradigm for Sustainable Success" (Dethmer, Chapman & Klemp, 2015), and I was introduced to a new framework for leadership in post-secondary education. The book is based on a simple construct: that every leader is either 'above' the line or 'below' the line. If a leader is above the line, s/he is open, curious and deeply interested in learning. If a leader is below the line, s/he is closed, defensive, and proving s/he is right becomes most important to that individual.
As post-secondary leaders, whenever we face a problem or issue, our teams and our institutions face the same or similar problems and issues. As leaders, if we fall below the line — denying responsibility, blaming someone else, or making other excuses — we then give license to all our constituents to do the exact same thing (shadow of the leader). On the other hand, if we remain above the line — taking steps to see it, own it, solve it, and do it — we model accountability for everyone on the team and in the institution.
As we all know, the higher education environment is in a state of flux. Institutions today have a wide and complex set of challenges to solve that weren't even imagined 20 years ago, putting leaders under enormous pressure. Leading through accountability and taking personal accountability for resolving problems or issues also proves to be more complex, particularly considering available leadership models to help guide us beyond the more traditional approach of protecting the existing enterprise to one that embraces a future of innovation.
The 'new' postsecondary, conscious leader must rely on the right blend of skills, knowledge, and capabilities — catalyzing a new generation of leadership models. This journey can prove to be a lonely and solitary one, as leadership development opportunities in our field are nascent. One such initiative supporting the development of new communities of leadership is the Institute for Emerging Leadership in Online Education (IELOL), a partnership of the Online Learning Consortium (OLC) and the University of Central Florida for 2019 and 2020.
IELOL launched this program in 2009 and since then has graduated over 300 future leaders. Delivering a robust engagement experience, the program helps participants better serve as leaders and change agents within a rapidly evolving field which demands agility, self-awareness, flexibility, and steadfastness. These requirements stress and challenge every leader. The most effective professional development program needs to reflect and accommodate these challenges through program adjustments in order to maintain relevance and impact. IELOL has maintained a dynamic approach, integrating improvements each year that reflect new developments, experiences, and research in the field of online learning; developing that next generation of conscious leaders.
Conscious leadership is about more than being concerned with how others see you; it's about truly understanding and seeing yourself. When an educator sets out to make a difference in the world through leadership, the motivation often stems from a desire to make a meaningful contribution through service to others. However, to exemplify conscious leadership, you must start by looking at how you can be accountable for your own growth, your own development, and your own preparedness. Going back to the book's premise, the real value is in having self-awareness — to recognize when you are above the line or below the line. That degree of awareness can help you pause and shape your actions for better outcomes.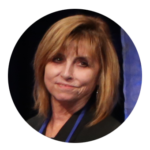 Kathleen S. Ives, D.M. has worked in online technology for over 20 years and is currently the Online Learning Consortium's Chief Executive Officer and Executive Director where she oversees the organization's strategic direction. Additionally, she serves as faculty for the Institute for Emerging Leadership in Online Learning and on the Leadership Advisory Board for the Center for Learning Innovations & Customized Knowledge Solutions (CLICKS). Dr. Ives has degrees in communication, communication management, and organizational leadership from the University of California at Davis, the University of Southern California, Annenberg School of Communication, and the University of Phoenix-Online, respectively.